Sooo... Elijah has hit the 4 month sleep regression- OH JOY! Last night he was up every hour and a half to two hours wanting to nurse. Needless to say, by the time I got up I was tired... and I did NOT want to go about my day yesterday, but I'm so glad I did!
First it was off to church- which was great! Pastor Chad taught on "core values" and what it  means to do the right thing for the right reason. This included not "flaunting" the things you do, but doing them in secret : i.e. praying, fasting, giving etc.  Good Word!  and the fellowship and worship was great! I just love to worship in the Spirit with my church family- God is amazing!
After church, we headed to the inlaws for lunch- and we watched the first half of "Nim's Island" . I have to say, that I will definately be finishing that movie next week. I was sucked in that is for sure LOL Of course, having to leave right at the major climax didn't help!
After lunch and half a movie it was off to our pastor's son's birthday party! Happy First Birthday Casen Bryce!!!! The kids had  a blast :) Casen loved his Elmo cake- and the older kids went swimming and complained when it was time to go! Kyley got in the truck exclaiming "MOMMY I swam to the stairs all by myself with no body helping me!!!"  She had arm floaties on, but she was so proud!  I'm so proud of my big girl because before our trip to Huntsville a few weeks ago, she wouldn't get off the steps, even with anone holding her and now she's swimming on her own with her floaties!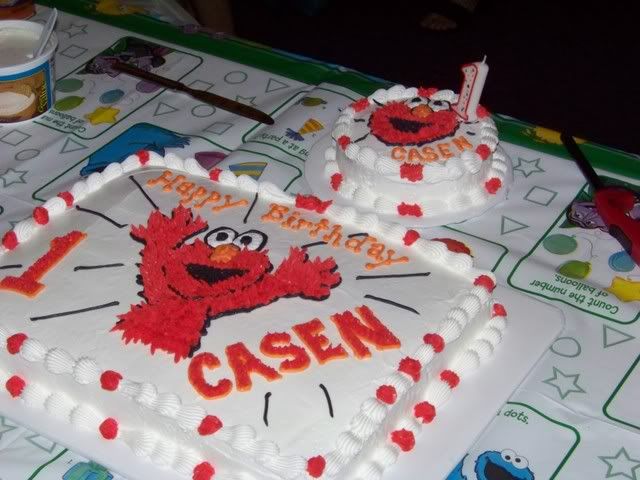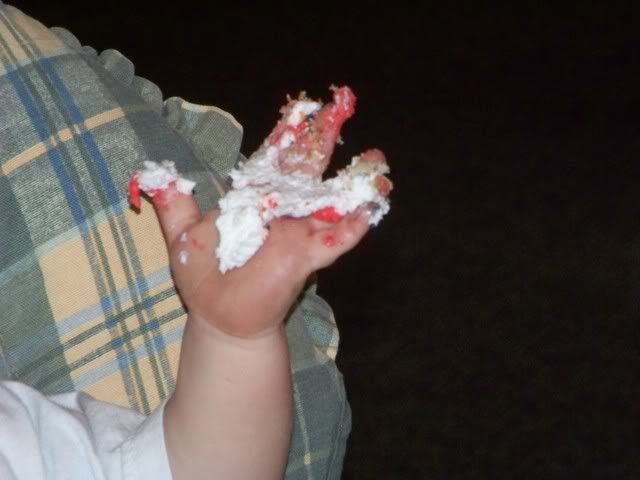 After the party, it was back to the church for our husband's small group, so I got some good fellowship time in with Angelica :) I love getting quality time to spend with my friends- life is so busy that sometimes it's hard to find time to catch up so I had a blast, and I thank God for that precious time!
As a special treat, we then took Kyley to SNO BIZ!!!! We had a great time of fellowship there as well... it was our family, with Will, Angie, Isaac, Tina, Elizabeth and Brandon (Dyno) and we had a great time!  Best laugh of the day was Derek and William were tasting each others snow cones, then Kyley tasted Dereks, then when William wasn't looking, Kyley reached over and got her a spoon ful of his and tried to hide it from him while she ate it :) TOO CUTE!  Isaac loved his sno biz! I'm sure he'll have many more in the years to come LOL
And as if that wasn't enough of a day :  Back to the church for hispanic service! Yay! This is the second week we've attended, and I'm proud to say that I understood more this week than last, and I have a feeling it can only get better from here! I love the culture, the language and just these people overall, and the best way to find myself understanding the language better is to submurge myself in it in situations like this.  Sometimes I feel like a big goof, but that is just the enemy telling me that this isn't important. But this is... it is a passion of mine to be fluent in spanish and be able to minister to the people of this culture whether it be in our country or a hispanic country- we'll see where God leads me!  And my wonderful husband, who has a hard time with languages is learning! I'm so proud of him, he is picking up on things quick and figuring them out on his own!
After a trip to the grocery store- a trip by Amy and Mikeys and nana and pa's to drop off some milk and we finally made it home after a long day!
God is amazing- my day started off with me being grumpy and not in the mood to do ANYTHING and then He gave me the strength to make it through it all without complaining! I even stayed awake all day with little to no effort to do so which is a feat seeing as how tired I was... Thank you Lord for allowing me to have a great day despite everything that could have got me down!  Gloria a Dios!