I just love these two crazy kids. And they love each other. Melt. My. Heart.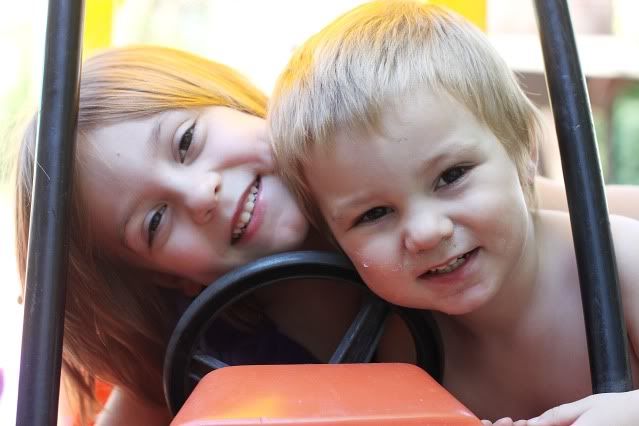 We have been busy bee's lately with homeschooling and church activities and the like. Kyley's been working hard on learning to read and is loving MATH in school. She MUST be her daddy's child. She starts ballet again this week and she cannot wait to see all of her friends and teacher. She's also been working hard on the drama for church that the BOMB drama team is performing in big church this week! I can't wait to see them! They performed it (while missing a few kids) last night at CiCi's pizza and did a great job! She loves playing outside and is so excited that the weather is cooling down so we can go out more often without sweating to death or being eaten alive by mosquitos!
Elijah is pure BOY! He loves all things guns and cars. He got new shoes this weekend (thanks grandma!) and they have Lightening McQueen on them and he loves them! We are working on potty training but so far we are slow going. He knows when he has to go, but getting him to the potty on time is almost always a fail, and he will NOT use it if I just sit him on it ever so often, even with bribing. He's stubborn but that's ok! This kid can talk your ear off if you let him. My favorite things to hear him say are "looove looo" and "walk away." He's recently spent a lot of time telling Kyley to 'stop it sissy!' and 'SIT DOWN' is another favorite.
We had a WIC appt yesterday and Elijah is now 32 lbs! and Kyley is 43 lbs! (she's not technically on wic but she got to get weighed to show Eli how to do it haha) They are both growing so fast!
Kyley is counting down the days until her birthday and Christmas. She can't wait for more than one reason. She's excited about being six for starters, she cannot wait to be a "big girl" and not five anymore. But also she is looking forward to her Uncle Jared coming home, anytime we talk about Christmas she gets excited that he'll be home (he's in the AirForce and we get to see him about once a year).
I can't believe how big and smart my babies are getting! Someone make it slow down!